I told you there was going to be a HUGE sale that is going on this weekend! There are over 150 titles available and they are all either $.99 or FREE! There are also a long list of paperbacks for sale at incredibly discounted prices as well! And the good news is they are all clean reads! Be sure to go check out this amazing sale here.
There is also a jaw-dropping giveaway going on! Grand Prize winner receives 20 paperbacks and the 2nd place winner gets 20 e-book titles from the sale for free!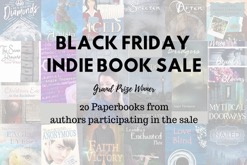 You can enter for the giveaway here.
Giveaway runs from November 22nd till November 26th @12AM ET Grand prize open to US winners only. 2nd place prize is open Internationally.
And if you want to read all the book titles and a list of all participating authors, visit Read Another Page.
Did you enter the giveaway?
Are you planning on getting new books from the sale?
Is there a book you are really excited to see on sale?